Was your daughter killed in a car crash? Database marketers want to know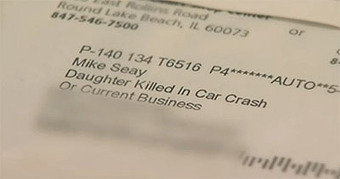 You never know when you might be able to profit from someone else's tragedy, after all.
Lori Feldman's insight:
In the early 80s, before massive "Do Not Mail" legislation took effect, I was often asked in my job as a list broker for lists of widows and divorcees. Financial companies wanted these names to market their "rollover" services.
Death information was compiled from the USPS's "deceased database" which was, essentially, a change-of-address form completed by the widow. "Divorce status" was typically compiled from white pages listings that changed from "John and Mary Smith" to just "Mary Smith" the following year.
Unfortunately, many widows and divorcees didn't know about or want to change their status publicly with the USPS or telecoms. So the lists I brokered were never 100% accurate (which I always explained to my customer).
But there's nothing like handling a customer service call from a distraught widow or a steaming mad ex-wife–unless it's a broken-hearted call from the relative of a tragically killed family member–to give you a gut-punching reality check (or viral social media story).
In the OfficeMax story, however, this is a case of bad database management. What probably happened is that a customer service rep was told "update the customer's information after every phone call," but wasn't told where to put "custom" info that didn't fit into a defined data field.
I see that a lot with databases we help clean up. Extra address lines are used for notes (like the above "daughter killed in car crash"), first name fields contain the first name and half of a hyphened last name or a title is populated with emotional opinions, like "Asshole."
You can blame some angry customer reactions on Big Data and the lack of privacy in today's society. But if you own a customer database, it's your responsibility to manage what you create–and train your staff to be accountable for the data their collecting.
Here are 5 ways to be a responsible database marketer:
1. Track the "create date" and a "last updated date" on every entry. Make it your database manager's job to quarantine new entries for validation before they're emailed. Quarantine all entries older than 12 months until they can be updated via survey update form or phone call.
2.  Identify customers and prospects separately. Customer data must be bullet-proof accurate.
3.  Identify the data source. How did that contact get into your database? You may find you have a breech in a data source (a bad web form or bad referral partner, for example) that may be damaging your online reputation.
4. Self-reported data is the best kind of customer information–but only when it's reliable. Check your web forms to be sure you don't have any "Donald Duck" or X-rated entries contaminating your database.
5. Give customers an easy way to update your misinformation about them, both on your website and in any email communications. Customers will appreciate it and you'll continue to be a welcomed solution provider in their time-challenged attention span.
It's true we all have less privacy than ever before. So as database marketers we have an enormous responsibility  to our customers and prospects not to transmit emotional pain and inaccurate crap into the world.
See on www.motherjones.com